GPS for Construction Equipment
Rental Companies
You don't know what you don't know!
...until you install GPS Live Track...
Know... what you didn't know!
All-in One Solution
Adding GPS Live Track to your team means increased security and efficiency for your fleet, improved safety  for your operators and cost savings and easy scalability for yur business.
Enhanced Security
Prevent theft and unauthorized use of their valuable equipment through real-time tracking and geofencing capabilities.
Efficient Fleet Management
Tools to monitor equipment usage, schedule proactive maintenance, optimize resource allocation, and minimize downtime.
Ease of Use
An intuitive and user-friendly interface that makes it simple for their teams to access and interpret data.
Customer Satisfaction
A suite of features that enable your rental company to provide accurate delivery billing and drop off and pickup times, leading to happier and more trusting customers.
Customization
The ability to tailor the system to your specific needs, including generating reports and setting alerts for maintenance or usage patterns.
GPS Live Track enhances the efficiency, security, and profitability of your construction rental equipment.
Know that your assets are Secure.
Security.
Prevent theft and unauthorized use with real-time location and movement alerts.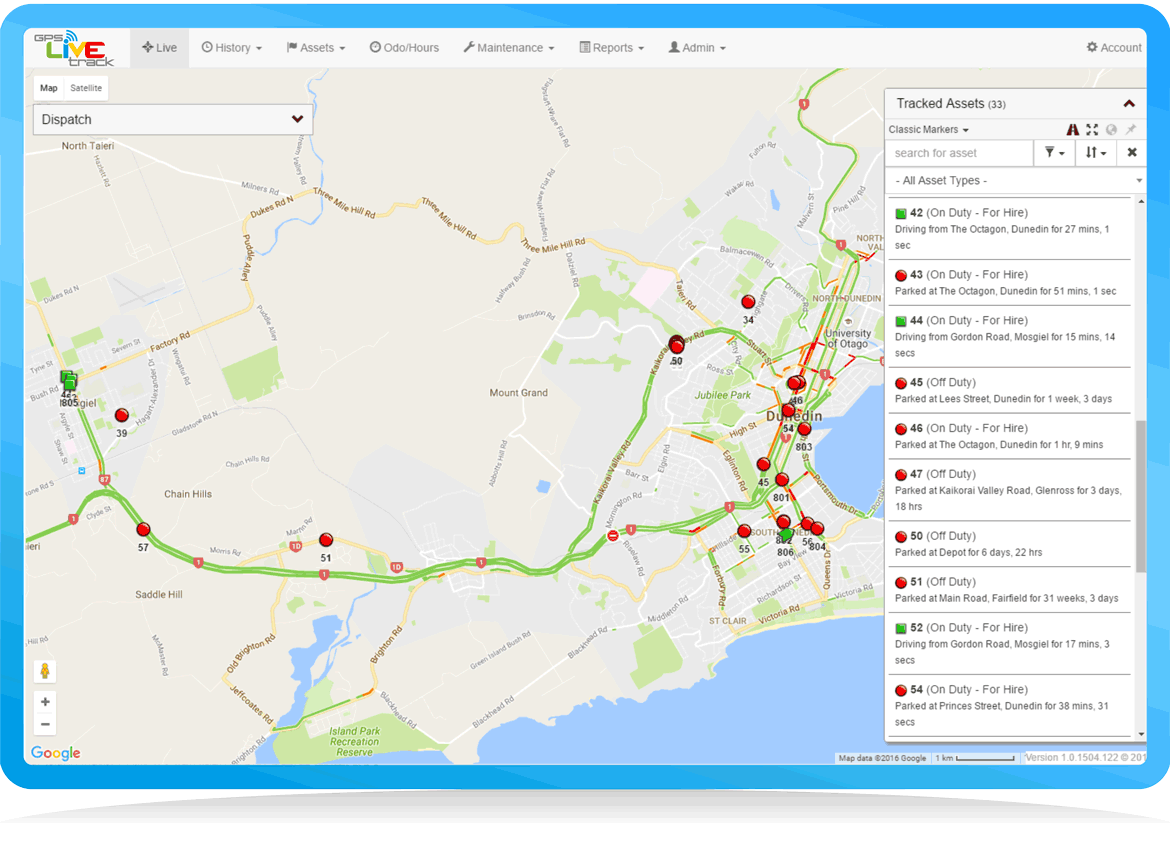 Live Location
See all your assets, in real-time, all the time
Movement Alerts
Lock assets in place from the App and be alerted for any movement.
Time-based alerts
Know when a driver or an asset hasnt arived at site or isnt home yet.
Remote Immobilizer
Remotely disable a vehicle or secondary engine from starting.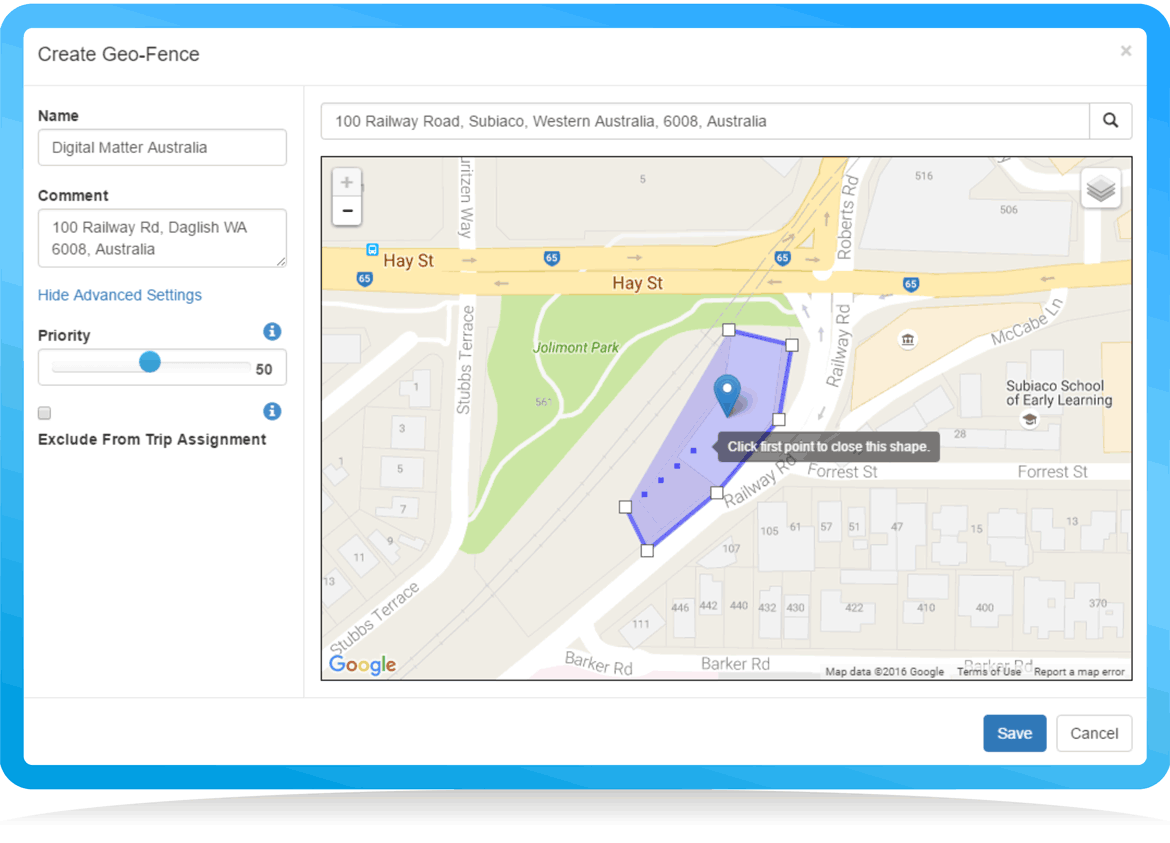 Geo-fence Alerts
Know when assets enter or leave geo-fences.
Know how your assets are used.
Fleet Usage & Optimisation.
Monitor usage and optimize resource allocation to minimize downtime.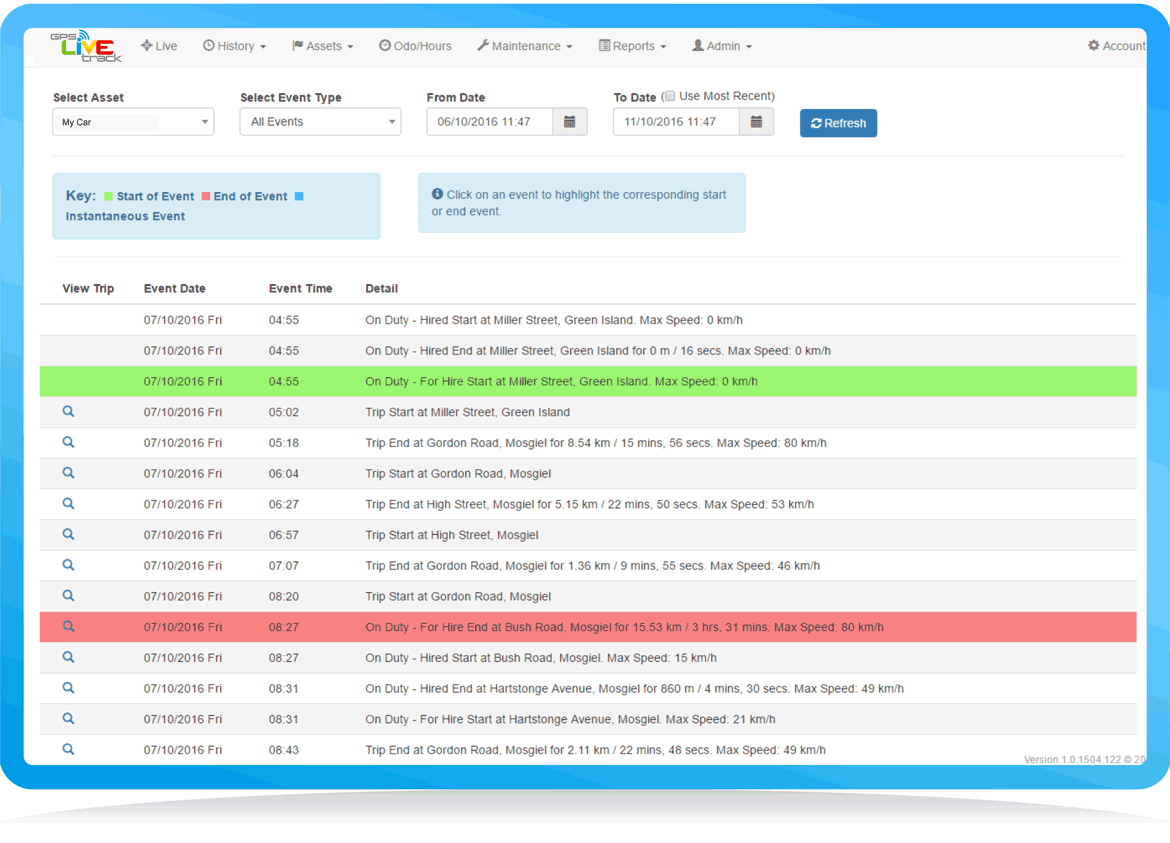 Trip Reports Logbook
Detialed trip reporting in logbook view to manage trips.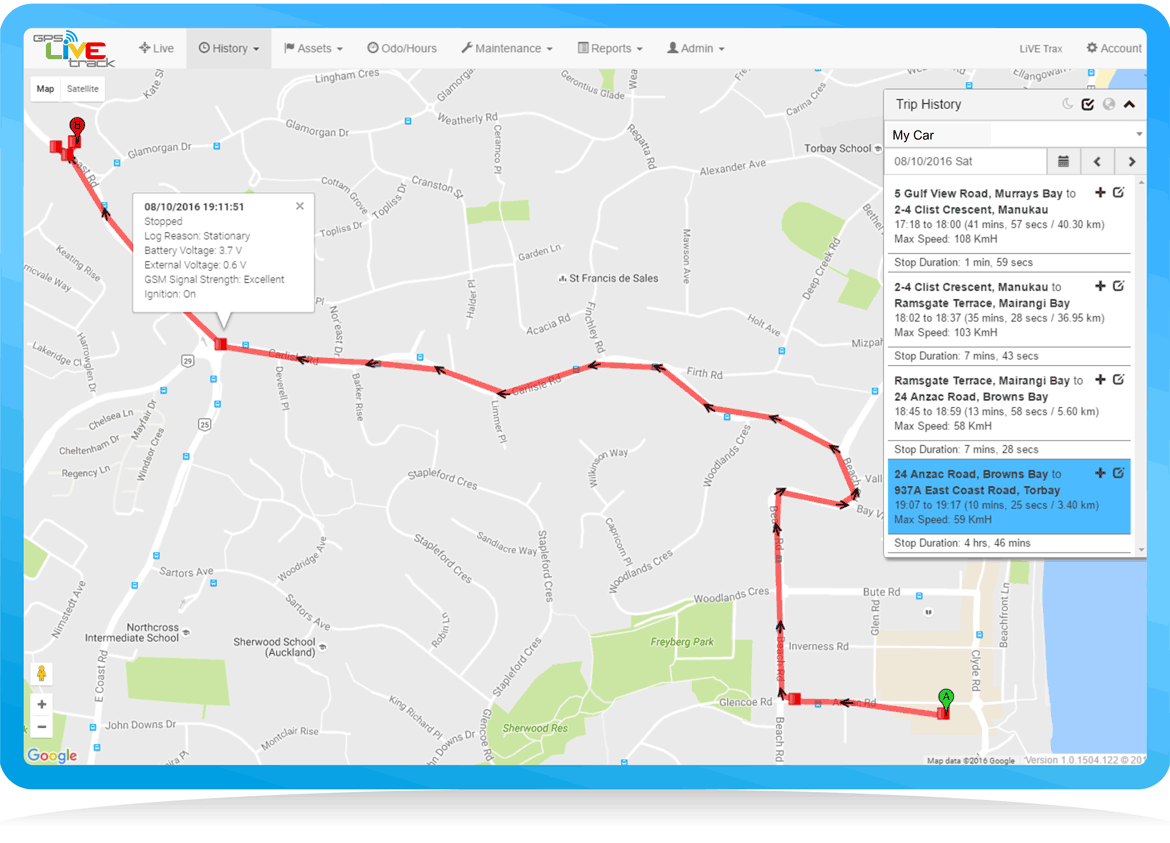 Trip History Map View
View each trip on Google Maps, Satelitre View and even Street View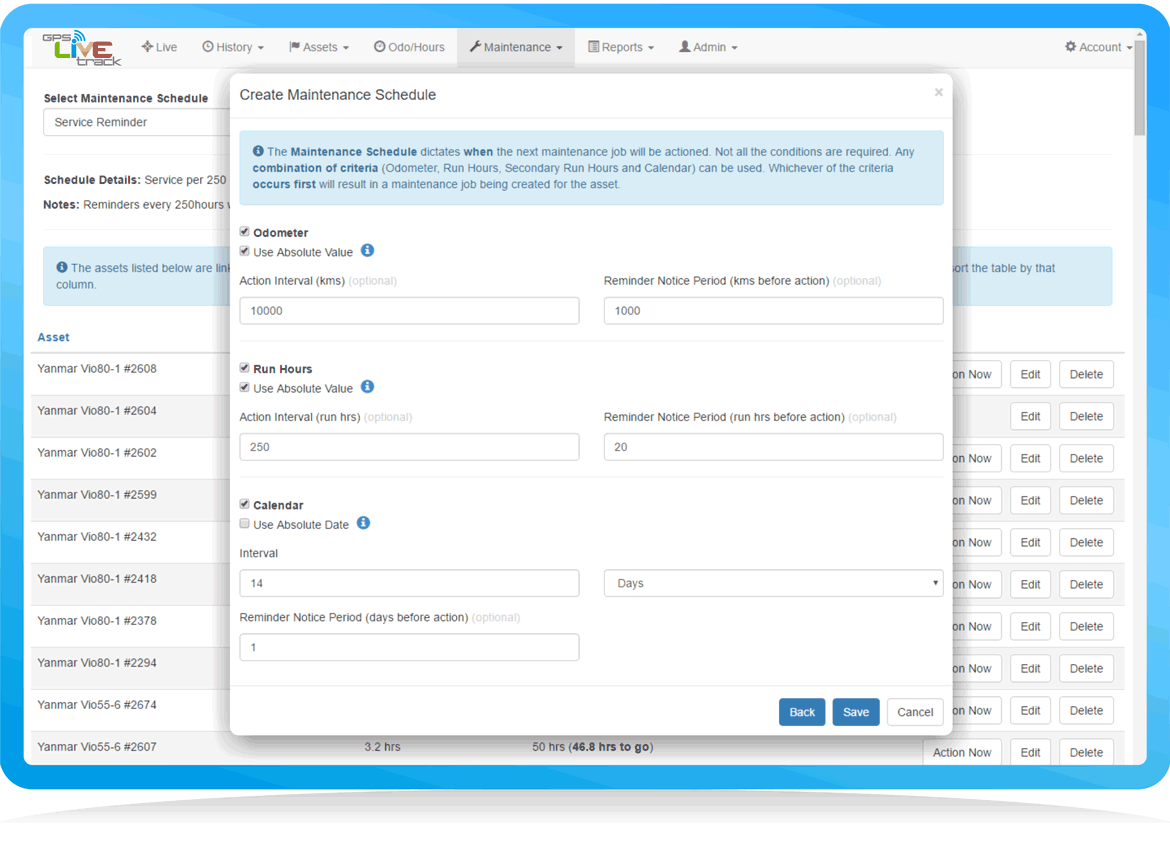 Run Hour Reports
See exact Start and End Run Hours for each asset at each loaction.
Track Transport Trips
Full details when your equipment is transported without adding engine run hours.
Identify Unused Assets
Report on any assets no utilised for any period you would like e.g. 14 or 28 days, or last 72 hours!
Know what your assets need and when.
Maintenance & Service.
Keep your assets under warranty and in best operating condition with Hours or Odo based Jobs & Service Reminders for any and every serve requirement.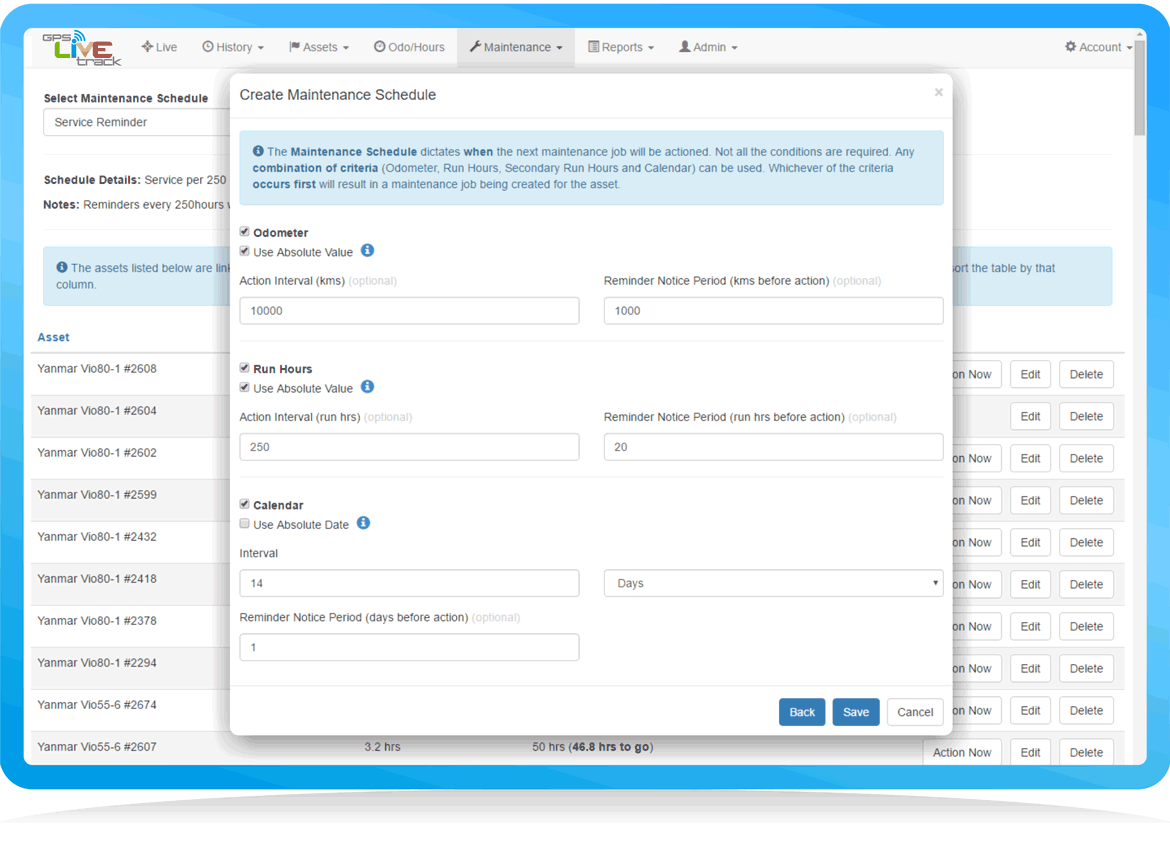 Schedule Maintenance
Easily create maintenance reminders and Jobs for everytype of asset or service.
Odo & Hours Records
Easily update Engine hours or vehicle odo readings to keep service records up to date.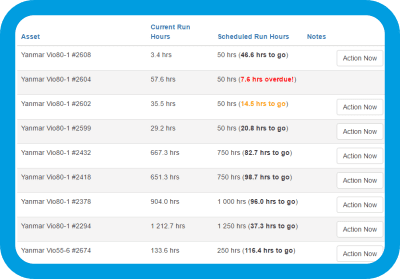 Engine Run Hours
Manage all assets by engine run hours, even reporting run hours at each job site.
Service Job Dispatcher
Use the App to send service technicians to equipment.
Usage reports
Easily customise usage reports for every site or customer including billing by hour.
Know that your assets are Safe.
Compliance & Safety.
Ensure staff & equipment operate within safety guidelines and regulatory requirements.
Checklists
Easily configurable checklists let you use teh App for safety and pre-trip checklisting.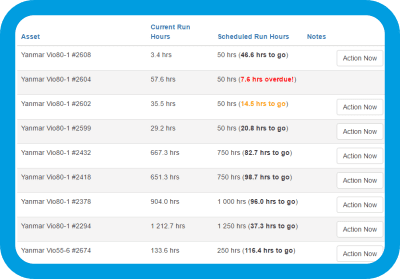 Service & Maintenance
Mainenatnce schedules improve vehicle safety and compliance.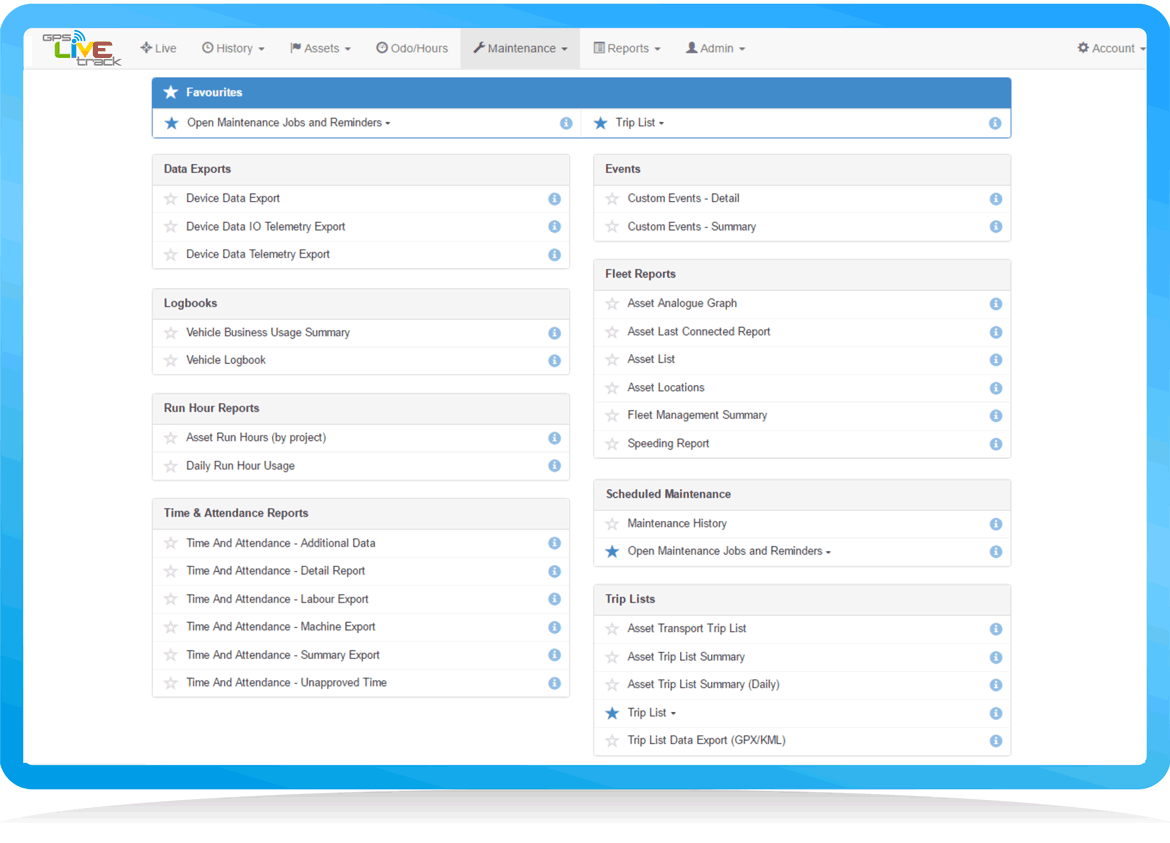 Service & Checklist reports
Produce service and compliance checklist history reports at the click of a buton.
Driver Fatigue Alerts
Ensure drivers and operators remain within set number of driving hours per trip
A GPS for every type of Asset
GPS Live Track provides a GPS device suitable for every type of construction equipment.
A Tracking System that is easy to use!
Our fully featured comprehensive tracking system offers unparalleled detail without sacrificing ease of use, providing you with an unmatched level of precision and simplicity in monitoring your assets.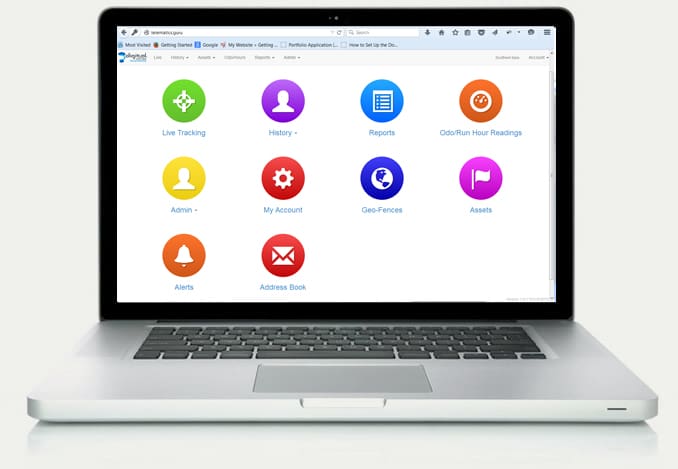 GPS LiveTrax
Mobile friendly on any browser with no fiddly apps required. Simply use any browser or use the App on any device.
Fully featured yet lightweight, intuitive and easy-to use.
Live tracking with easy asset selector
History in map and logbook view
Geo-fences and trip types
Create projects with billable hours per trip

Accident, harsh Breaking & Acceleration and over-speed alerts

Accident & Roll-over alerts

Maintenance and Service Schedules
PDF, CSV, HTML and Excel based reporting (including scheduled reports)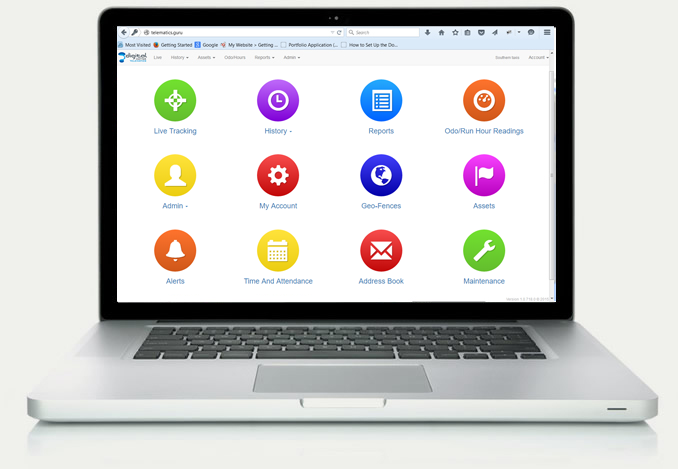 GPS LiveTrax Pro
Everything that GPS LiveTrax offers but also includes:
Local Speed Limits (every trip point)
Satellite communications for rural out of coverage areas*
Refrigeration or external sensor monitoring*
Driver ID*
Compliance Check Lists
Employee Attendance Timesheets
* requires optional hardware
Scalability
Easily expand the tracking system as your fleet grows, ensuring your business remains efficient as it expands.
Reliability and Support
We provide a proven, robust and dependable GPS service with responsive customer support to address any requirements, issues or questions promptly.